Moult a appris qui bien connut ahan
Cave Beast
🐸 Citizen of the Internet 🐸
⏰☕🚬🚽🚿🪒
I can't tell if it is the translation or just the bloated, pretentious French literary philosophy writing style, but all of his books are an extreme chore to read. Maybe he had the same translator, I don't recall, but La Technique (published as "The Technological Society" in English) is actually even worse than Propaganda.

That said, I think he's really one of the single most important thinkers who ever lived, and he gets zero attention. I'm sure if he'd written like Nietzsche or Schopenhauer, or even in the brutally stylized German obscurationist style of Hegel and Heidegger, he'd have been more popular. Choosing heavily stylized language to communicate real world concepts is always stupid, though it sometimes pays off - Hegel hid in language and probably wouldn't have even mattered if he hadn't obscured the emptiness of what he was saying with confusing language.

I always say: the Unabomber Manifesto is a good summary of Ellul, hitting all of the key points with simple language.
There is a more blatant reason : Ellul began his career as an historian of law and political institutions.
his manual on the History of institutions is a classic that has been part of the basic curriculum of every law student for decades, and it is mainly through this medium that he was known here for a long time, before his philosophical works gained new notoriety.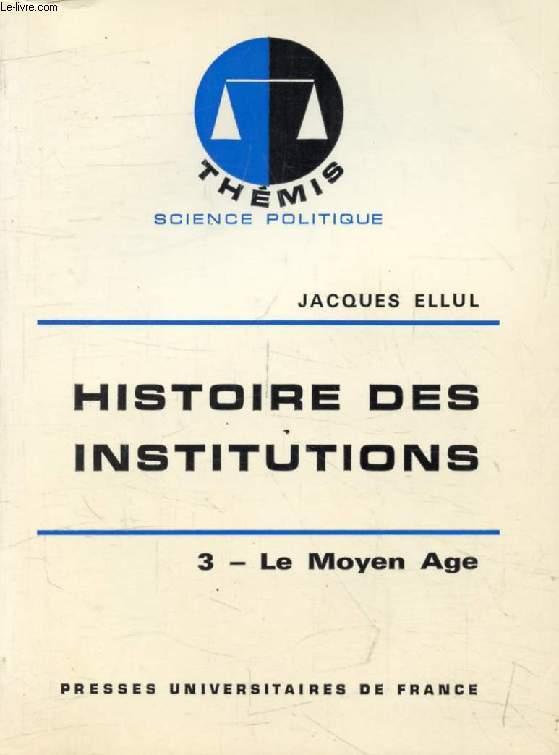 there is a usual reticence in France towards specialists who change their field of study, and this has contributed to the low profile of these works outside a reduced milieu at the time he produced them.
and it's difficult for an intellectual to have influence abroad when you don't already have it in your own country
René Girard had some in the US with his concept of 'mimetic rivalry', but he lived there for most of his life