Commander-in-chief of the haters
👑
🐸 Citizen of the Internet 🐸
🎩
⏰☕🚬🚽🚿🪒🏋🏻🥓💻⛪️
Recently, the fatso "CuzinEd", who is from Baltimore, was banned from the forum for spamming it with CNN talking points 24/7, saying that abortion is good "because blacks get abortions" and saying that Russia is bad "because USSR".
@Paul Harrell
then noticed that the schizo boomer "Tacitus Kilgore" on Kiwifarms writes the same way that CuzinFed does, and he since then personally confirmed that it is indeed him.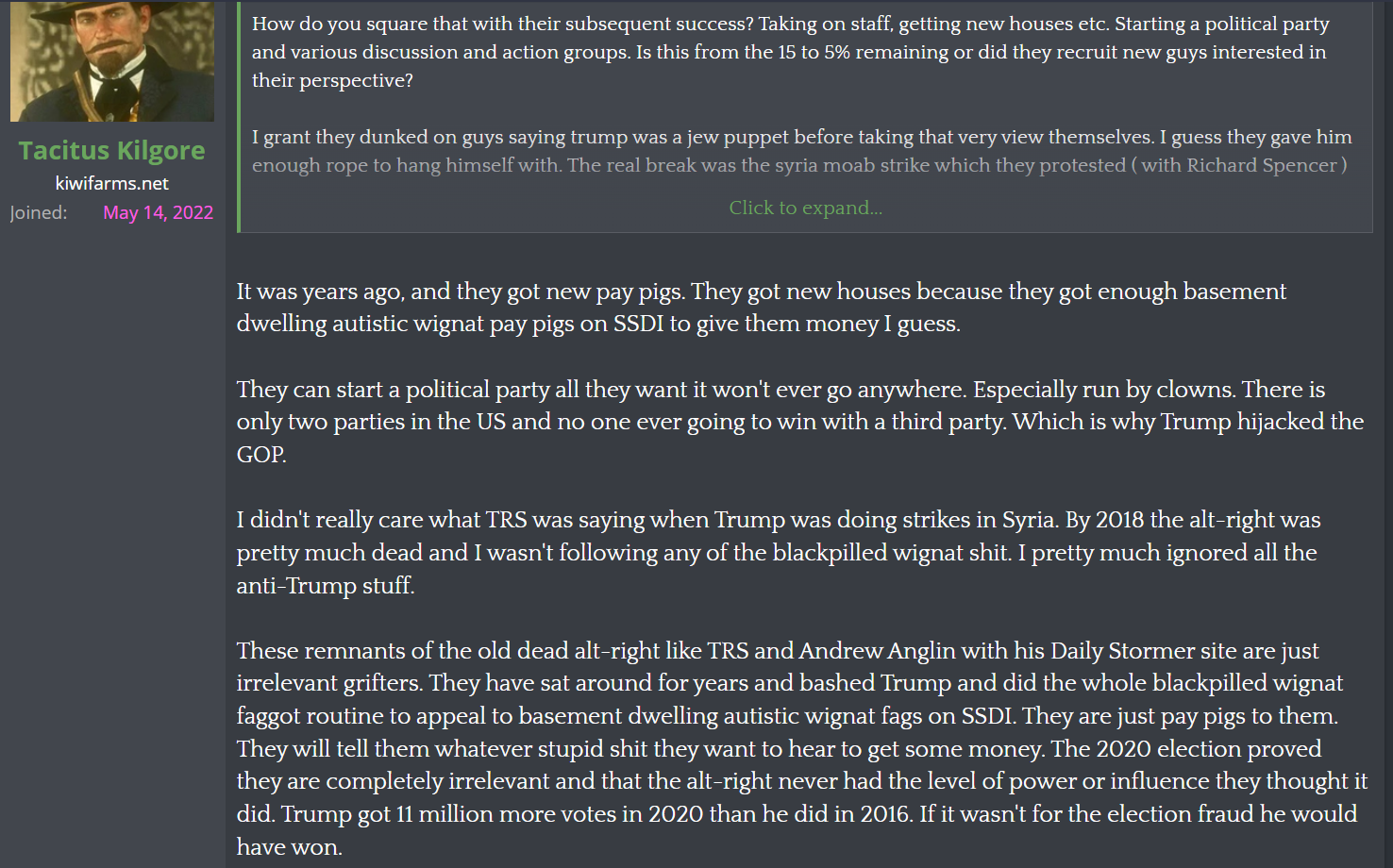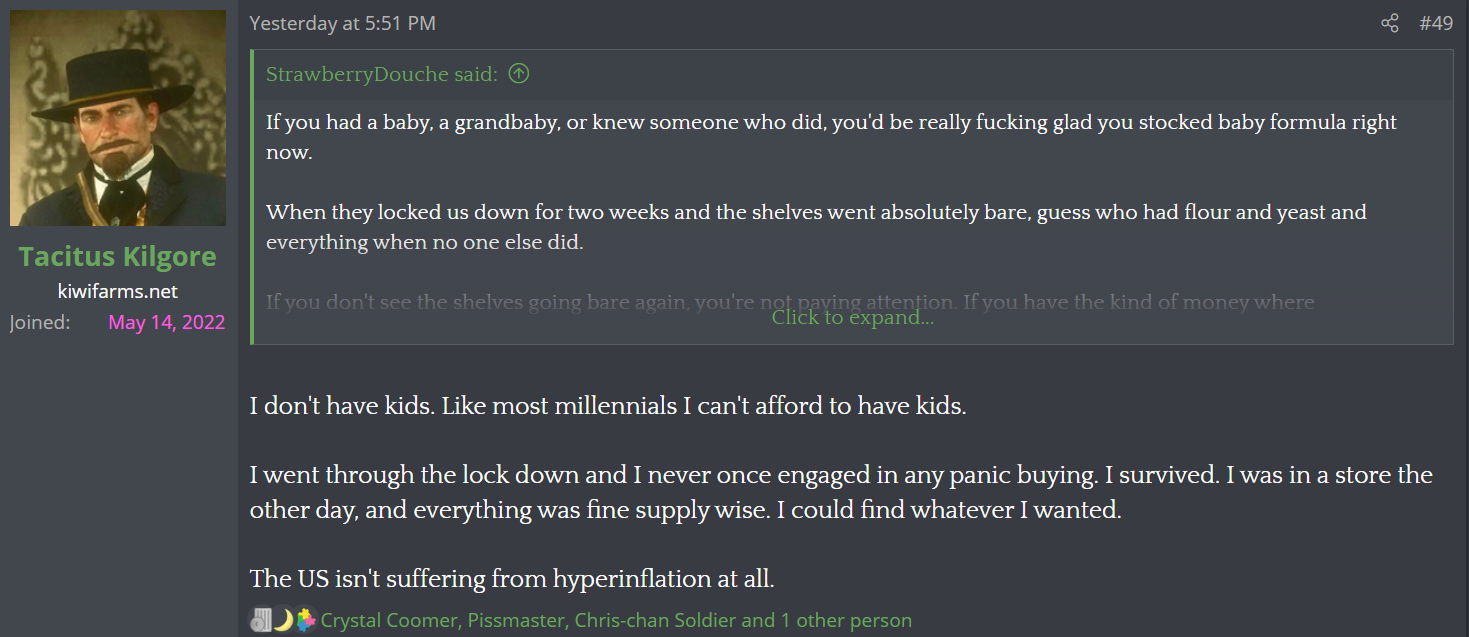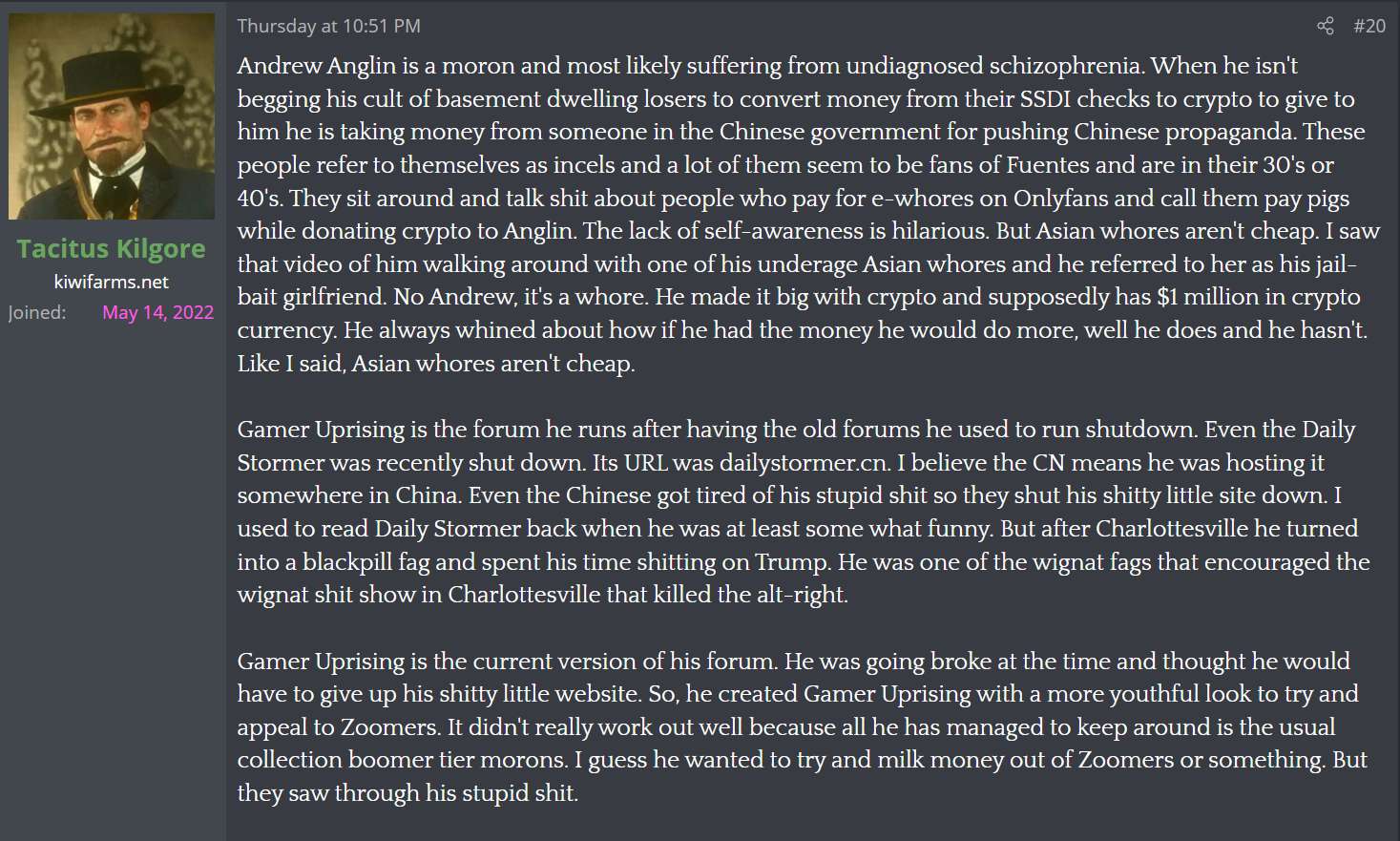 Here he confirms that it is him:

He are a few posts talking about this:
Most of what he claims is untrue, like for example that Anglin has $1 million (where??) or that Anglin is employed by the Chinese government (lmao), and he claims it because he is mad at Anglin for banning him (Anglin does not normally ban people, there are mods for that, and people only very rarely get banned generally). Before this person spammed CNN talking points about the Ukraine war, he spammed Fox News talking points about Chyna. So it is not really surprising he would make up that Anglin gets paid by China. Yeah, if you register a website with .cn at the end and only have it be taken away from you within a few weeks, that must mean the Chinese government is paying you. Also, the fact that there are only two writers aside from Anglin (who he writes a lot of material for as well) just goes to show that Anglin gets money from the Chinese to effectively push their agenda.
This is not schizo boomer tier faggotry btw. It's 100% him. I instantly recognized him while browsing kiwifarms from his remark about Groyper being Pepe's gay uncle. He's used that one before here. Other phrases like "boomer tier" and "blackpill wignat faggots" seal the deal
Definitely. He also used the unusual phrase "doom splain", which he uses in one of those screenshots, here as well:
This is all quite funny. He gets butthurt at the forum for not believing in Trump enough, then he shits up the forum for 1 and a half years and when he finally gets banned for spamming and not responding to criticism, he gets even more butthurt.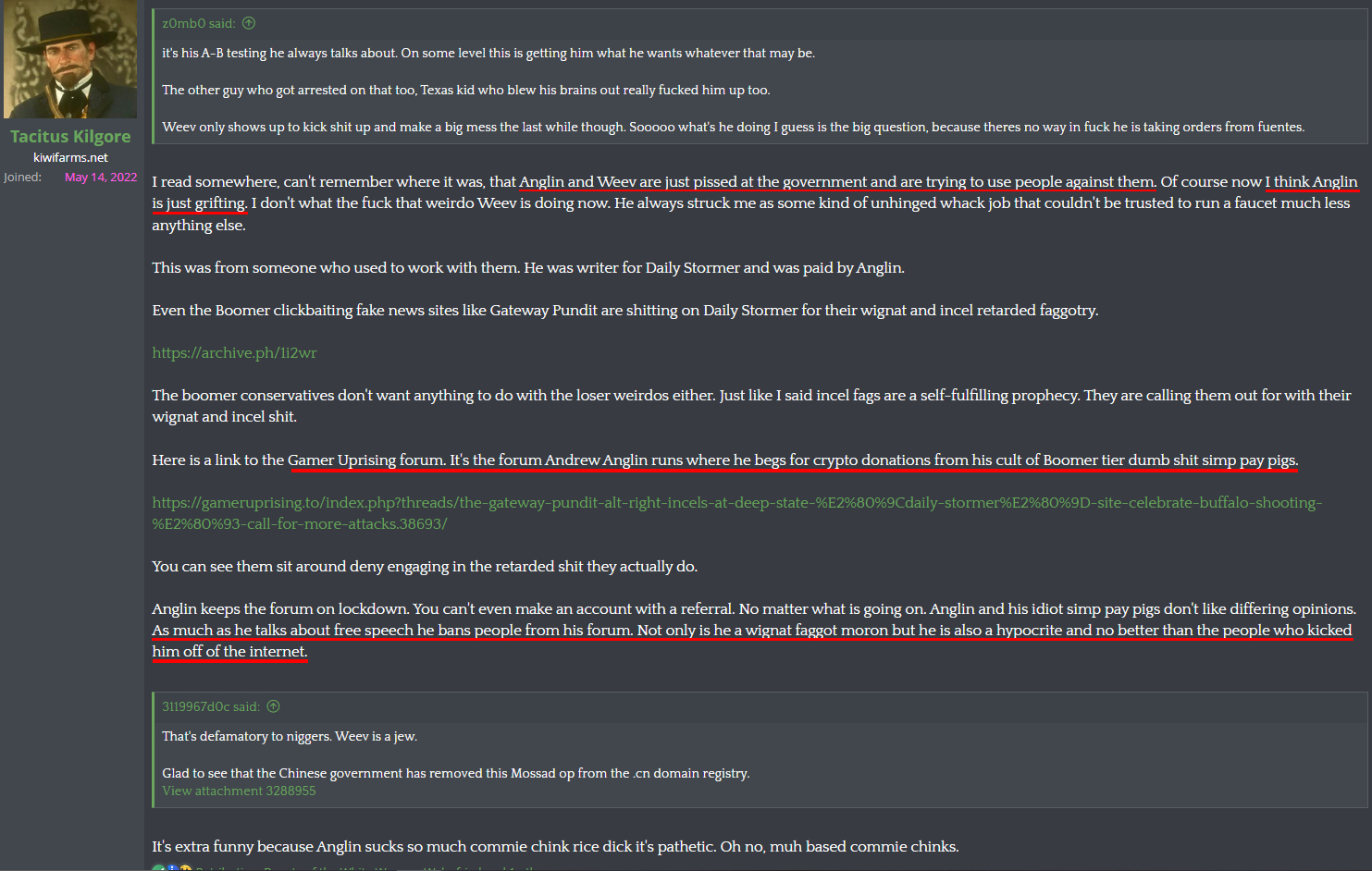 > Wow just wow Anglin and weev don't like the government. I am literally shaking.
> Anglin, who has been banned from having a bank account and was forced to flee his home country for his journalism, is a grifter. Although he would have multiple times as much money had he not went down the path of speaking 100% freely.
> Anglin begs people for donations. [He hasn't asked people for donations in months, which is not a good thing.]
> Wow just wow Anglin banned me personally for spamming the same CNN talking points for months on end and shitting up the forum, then not responding to people who address my CNN talking points. Because he banned me personally for this behavior, which it was clear you were not allowed to engage in, Anglin is against free speech. I mean, he won't even let the FBI flood the GU forum with retarded sperg spammers like myself!
And the Gayway Poundit rag claiming that weev factually stating that Israel has been successful with using violence, so thus violence works, does not mean that DS is in favor of violence. For example, I think we can all see that would you kill all your enemies, you would not have any enemies. That is quite easy to understand, right? But stating this does not equal saying you should do that. I think we can all agree that would you ignore speed limits and drive everywhere as fast as you want, you would arrive quicker. That does not equal saying you should do that.
The posts from CuzinEd are garbage, as usual.
On Kiwifarms, I also spotted
@Coomer
, who claims he has been permanently banned from GU (as opposed to temporarily).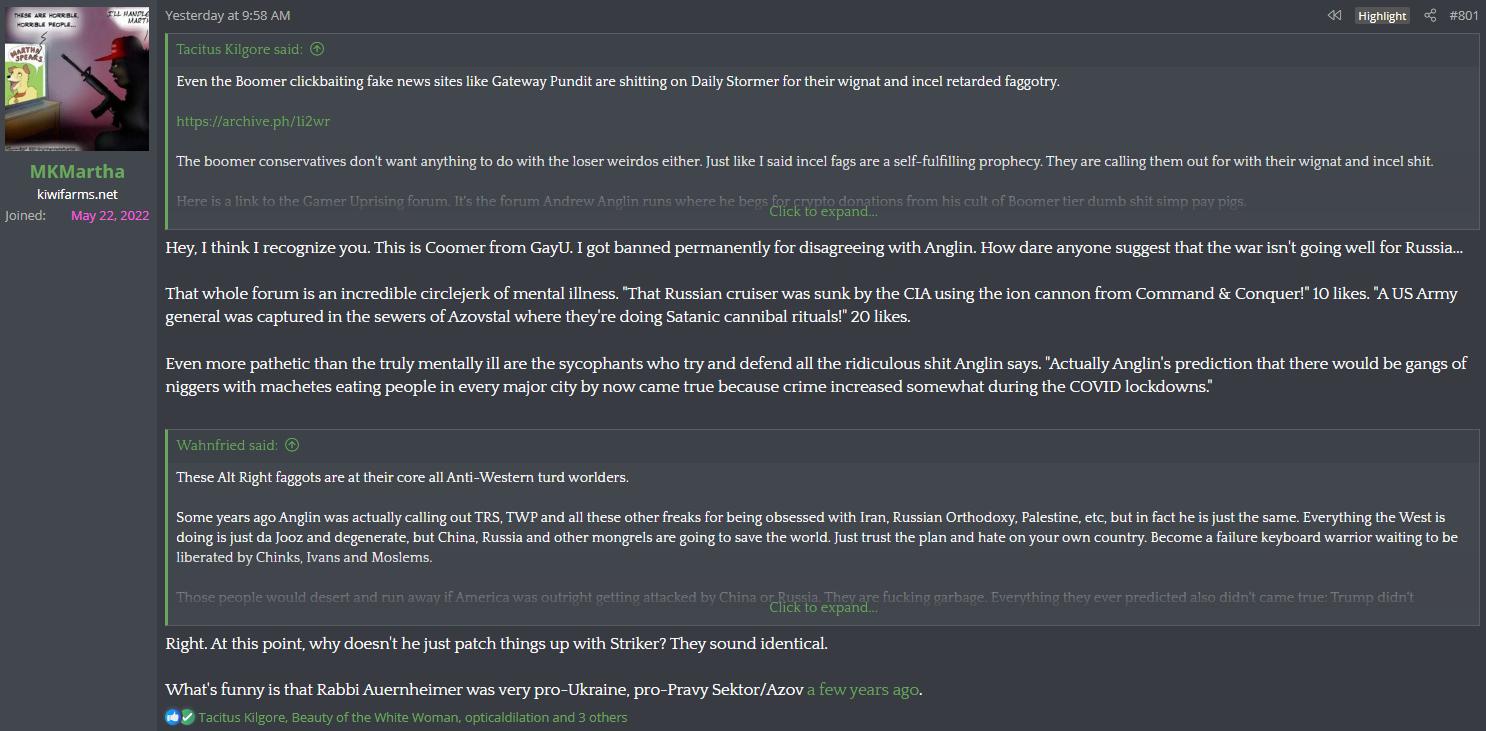 You repeated the same talking points for the entirety of the two months you were on this forum, Coomer. Big injustice. I had a few interactions with him myself, and he did engage the first responses to his posts, but then would just ignore what you said and move on.
And guess who is also on that site:
@ionwhite
, an American man pretending to be a German girl. It seems that the Daily Stormer thread on Kiwifarms accumulates all the trash wignats and faggots that hate DS.

I don't recall Anglin saying that nigger gangs would happen exactly within 6 months, and it was probably a bit of hyperbole to get people to go out and vote for Trump. But it is obvious that when the US spirals into hyperinflation and people can't afford food anymore, there will be a good contingent of nigger gangs roaming the streets. If you can't see that, you are retarded. The USA will probably cede power to the UN, yes.
The WHO is about to commit a global health governance power grab, and unless we want a post-democratic world government, we need to stop them
rairfoundation.com
And this tranny think the US government goes out there and talks about UFOs and releases the alleged UFO videos themselves because UFOs are real and they want to tell the truth? There is no ulterior motive? I guess the tranny
@ionwhite
agrees with the CNN spammer
@CuzinEd
that the government is good and that Anglin and weev are evil for disliking the government.
For anyone who missed it or doesn't remember:
@ionwhite
has been exposed as lying about basically everything in this thread.
@ionwhite stupid whore suck my cock i will destroy your throat with my massive girth . . . the wishes and hopes of the best users from this internet forum are behind each and every one of my words. Weeks ago it was formed: yes i am talking about the association that was formed on the internet to...
I also found the founder of hyphen-report.com, which is pronounced "hyphen hyphen report dot com", on Kiwifarms. He has dedicated his site to Anglin, titling it "Hyphen Report : Taking News Back from the Manlets". His most popular articles were the ones attacking Anglin (for not believing in feminism and such). It must make him angry that Anglin is so much more successful than him, although he still has a .com, and that his most visited articles are about Anglin.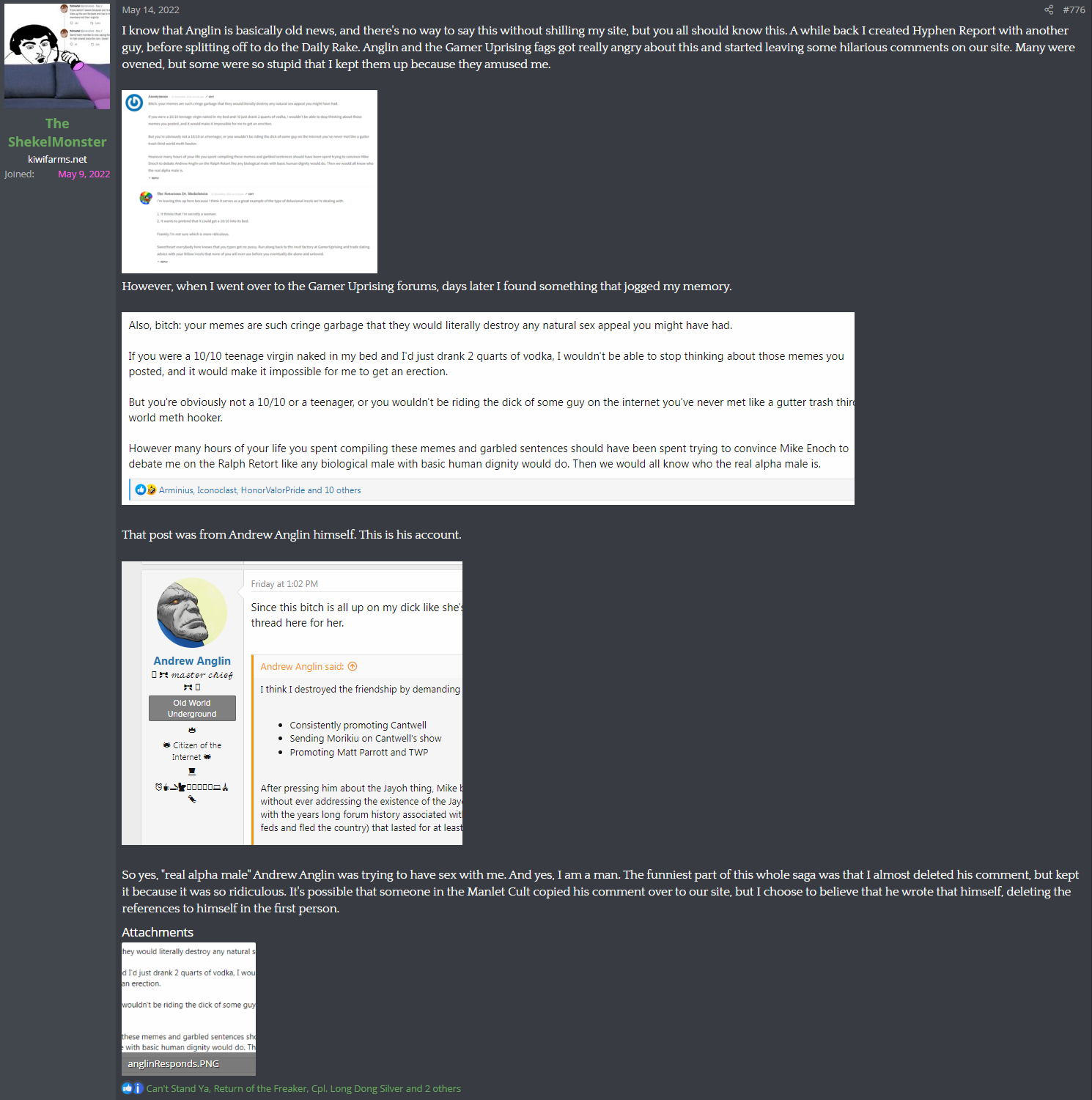 This person is a TRS shill.

The bottom of the hyphen hyphen report website.
We see a coalition of boomer schizos, trannies, TRS wignat loosers, and coomer faggots attacking DS because of personal reasons like being angry they got banned for spamming, being driven out for being a tranny, or being jealous.
I know some people on here like Kiwifarms. I don't visit that site with any regularity, but it seems similar to the FBI website Gab, not due to the way it works, but because of the gay retards populating it. Some are honestly worse than the fednats and wignats on Gab, where the FBI encouraged Robert Bowers to do his shooting.
I realize that the purpose of banning Coomer and CuzinEd was that they would stop shitting up the forum, and me reposting their stuff defeats that purpose a bit, but I unfortunately don't have a Kiwifarms account with which I could respond to these people. I think
@Im the horse
said in the past that he likes Kiwifarms and has an account? Could you give me a referral code so that I can engage with these people? I would post some throwaway email here in that case.