♫♪♬ I bless the rains down in Africa ♫♪♬
Old World Underground
👑
🐸 Citizen of the Internet 🐸
🎩
⏰☕🚬🚽🚿🪒🏋🏻🥓💻
ZeroHedge - On a long enough timeline, the survival rate for everyone drops to zero
www.zerohedge.com
European stocks hit a new record highs on Thursday, buoyed by optimism in Britain over easing lockdown restrictions, while the benign outlook on US interest rates revealed in the latest FOMC Minutes where the Fed indicated it will maintain its commitment to supportive policy, helped push S&P futures to new all time highs after the cash index closed at a record on Wednesday. Treasury yields dropped, the dollar slipped and crude oil fell as the pandemic worsened in key regions just as OPEC+ prepares to add supply over the coming months.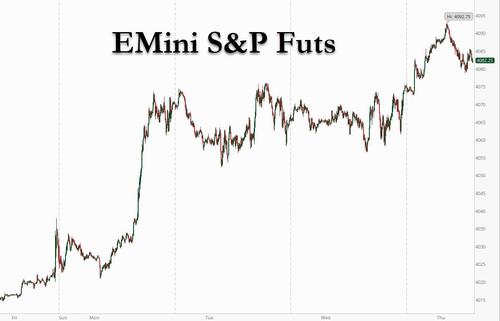 At 7:30 a.m. EDT, Dow E-minis were flat, S&P 500 stock futures up 13.75 points or 0.34% and Nasdaq 100 E-minis were up 122 points, or 0.89%. The S&P 500 and the Dow ended a choppy session near record highs on Wednesday, while the tech-heavy Nasdaq is still more than 3% below its February all-time high.
On Wednesday, the Fed acknowledged an improving economic outlook buoyed by massive fiscal spending and accelerating vaccinations in minutes from its latest meeting which showed members felt the economy was still far short of target and were in no rush to scale back their $120 billion a month of bond buying. Policymakers noted it would be "some time" before conditions improve enough for the Fed to rein in its support. Between the commitment to low rates and speculation that Biden's infrastructure plan will be lowered down, interest rates resumed their decline. Elsewhere, Treasury Secretary Janet Yellen unveiled details of a plan to bring back about $2 trillion in corporate profits into the U.S. tax net. That would help fund the government's spending initiatives, potentially reducing reliance on more borrowing that could drive rates higher.
"Many economists and market participants have been worried about a surge in inflation, but the Fed doesn't seem to be,"
Hussein Sayed, chief market strategist at FXTM, said in a client note. "So far, it seems we are in a Goldilocks situation. Expect U.S. stocks to continue outperforming non-U.S. stocks at least in the short term, equities to outperform bonds and, if corporate earnings surprise to the upside, this would pave the way for more record highs."

Nasdaq futures jumped about 1% on Thursday, as tech-related stocks climbed ahead of weekly jobless claims data, helped by 10Y rates that dropped to session lows. FAAMG stocks rose between 0.8% and 1% in premarket trading. High-growth tech stocks have recovered in recent sessions as U.S. 10-year bond yields backed off from their 14-month highs.
S&P 500 futures up 0.3% to 4,081.50
[*]MXAP up 0.2% to 207.29
[*]STOXX Europe 600 up 0.3% to 435.66
[*]MXAPJ up 0.5% to 692.55
[*]Nikkei little changed at 29,708.98
[*]Topix down 0.8% to 1,951.86
[*]Hang Seng Index up 1.2% to 29,008.07
[*]Shanghai Composite little changed at 3,482.56
[*]Sensex up 0.7% to 50,006.37
[*]Australia S&P/ASX 200 up 1.0% to 6,998.77
[*]Kospi up 0.2% to 3,143.26
[*]Brent Futures down 0.3% to $62.95/bbl
[*]Gold spot up 0.3% to $1,742.74
[*]U.S. Dollar Index down 0.1% to 92.37
[*]German 10Y yield fell 0.6 bps to -0.330%
[*]Euro up 0.1% to $1.1879